E-commerce marketplace Amazon is simply reassessing some experiments typical of innovative companies, its consumer business country manager Manish Tiwary told ET, after the US-based e-tailer shut some of its verticals like edtech, distribution and food-delivery recently.
Tiwary added that the technology giant would double down on its investments in its business-to-business (B2B) marketplace, pharmacy, grocery and social commerce in the coming year.
"Every year, we look at our portfolios, are these innovations working, is there a new idea?" he said. "When your DNA is of an innovator you will always have some businesses which you will reassess, stop, slow down, some you will double down on… I am not aware that you will do 10 innovations, and all will work."
ET was the first to report that Amazon was buying social commerce platform Glowroad in April.
Tiwary said Glowroad's reseller base has grown by six times since the buyout.
Amazon Pay and Amazon Pharmacy – where it is working with Apollo – will also be focus areas.
"For a long time, we sandboxed pharmacy in Bangalore. Now, you can get it in 16 cities on the same day. Fresh (the grocery business) was available in 14 cities and now we have expanded it to 30 tier-2 and tier-3 cities," Tiwary said.
A Hindustan Unilever veteran, Tiwary joined Amazon in May 2016 and was elevated as the country manager of Amazon India's consumer business earlier this year.
He said, despite downsizing, the India business is performing in line with the US company's expectations.
India remains an exciting market for Amazon, he said, adding that he was coming fresh off drawing up the firm's annual plan with the leadership team in Seattle.
Invest India opportunity

"We have been around for nine years as a marketplace, and we just reviewed our annual plan commitment worldwide and we continue to be as excited about the India opportunity nine years back," he said.
India is among the few economies in the world where the macroeconomic situation is good, and hence the company's projections are in keeping with that.
"The ecosystem which we have created in India like Prime Video, Amazon Pay is getting great traction," he said. "We continue to invest in things which are very important for our customers and sellers. Be it infrastructure, be it content, driving UPI, or improving the speed of delivery, the worldwide team leadership also believes in it," Tiwary said.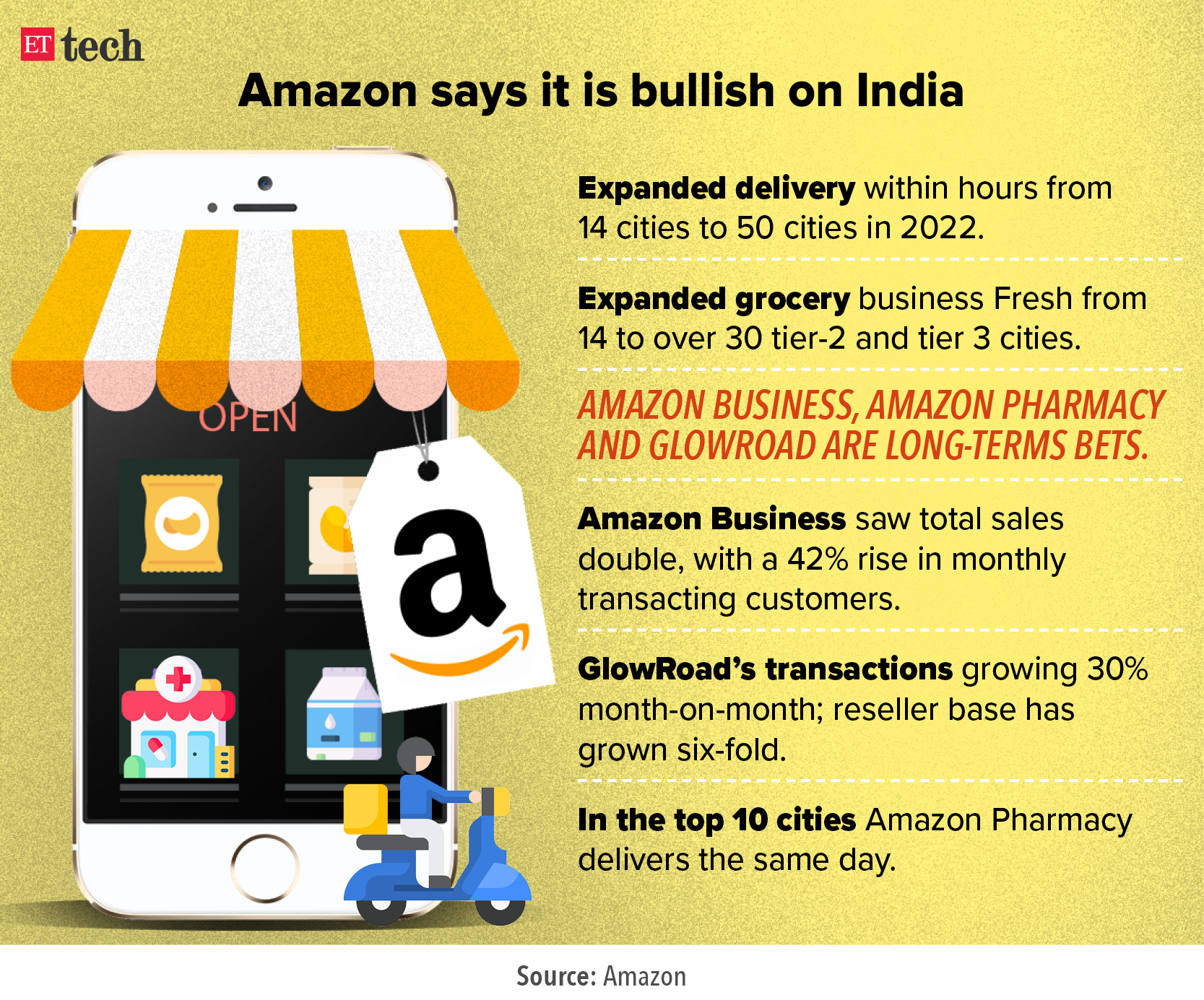 Recently, Amazon Inc chief executive Andy Jassy said that the tech giant had excess warehousing capacity as it doubled down due to two years of the Covid-19 pandemic which accelerated demand.
Tiwary said unlike the North American markets, Amazon India does not have a problem of excess warehousing and it won't shut down capacity in large numbers.
"We are happy with what we have, and we will continue to invest in newer spaces," he said.
Amazon faced tough competition during the festive season sale with Flipkart Group taking a lion's share of the market at about 60%, according to research firm RedSeer.
Sources told ET that Amazon has been losing share in metros, traditionally its stronghold.
Tiwary, however, rebuffed the claim saying Amazon had the best Diwali sales period ever and that he was not concerned about competition.
"What is important for us is three things – new sellers, new customers and Prime customers. As long as this moves, the flywheel will keep on moving," he said.
According to a report by brokerage firm Bernstein, Amazon India has about 5 million Prime customers in India, its subscription programmes for faster shipping which comes bundled with free streaming services locally.
Life after Cloudtail closure
On the challenges new sellers were facing following the closure of the marketplace's erstwhile biggest seller Cloudtail due to new regulations, Tiwary said new sellers, which took over from Cloudtail, will scale up in time.
ET reported on July 8 that sales started falling on Amazon for some brands due to teething issues post the Cloudtail transition. ET also reported on August 15 how these new sellers have hired former executives of Cloudtail and Appario to run operations.
"A lot of people have moved from Cloudtail to these new sellers, but we are not the ones making these transitions, it is the seller who is making this happen," said Tiwary, re-emphasising the company's detachment from sellers on its platform.
"I have not heard anything from the brand per se. It takes some time to build the capability. I don't see it as a transition. It would take some time to scale up capabilities. We had our best our Diwali. If I look at Prime Day and Diwali, the seller ecosystem is working well."
Cloudtail functioned under a joint venture between Amazon and Infosys founder NR Narayana Murthy's Catamaran Ventures but shut operations as a seller on Amazon amid regulatory pressure.
Indian regulations do not permit a foreign-owned entity to run an online marketplace and its group companies to own stakes in any seller on the platform or have control over their inventory.
Amazon on October 31 said it would also shut down the operations of Appario, another seller entity where it has a direct stake.